If you are looking for a way to give your drab kitchen a fresh new look, painting your oak kitchen cabinets is a great solution! Did you know that refinishing your existing cabinets can save you a ton of money compared to a full-scale renovation? In fact, kitchen cabinet painting costs about 75% less than replacing your cabinets! If your current cabinets are in good condition and could use a cost-effective makeover, here are some important oak cabinet painting tips to consider.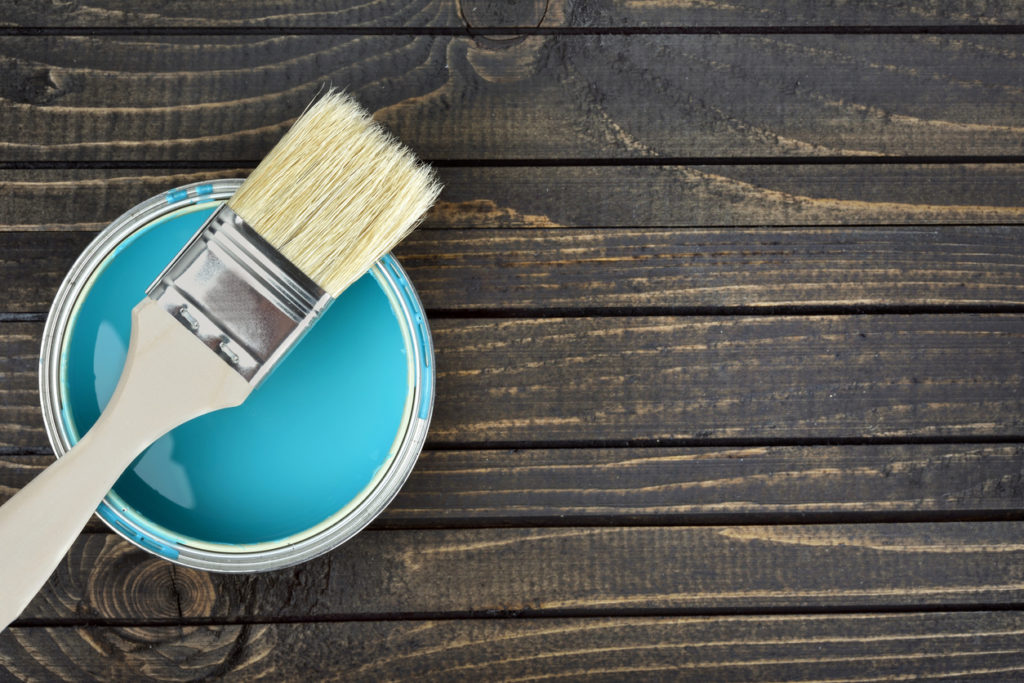 Clean and Sand the Cabinets
The first step is to prep your oak kitchen cabinets. Start by cleaning your oak kitchen cabinets with some soap and water to remove any oil that may be on the surface. If you try to paint over oil, the paint will not adhere properly. Plus, if there is dust or dirt on the surface and you paint over it, you may end up with a bumpy finish that looks rough and messy. Sanding your cabinet pieces helps remove most imperfections in the wood, such as scratches, stuck-on glue, chips, and other flaws.
Remove Doors and Drawers
The next step is to remove the hinges, doors, and drawers. It will be very difficult to paint your cabinets with the doors and drawers still assembled and you may not be able to reach all the nooks and crannies with your painting tools. It may sound like an unnecessary step but removing your doors and drawers will actually speed up your painting job. Additionally, you should avoid painting over or around hinges or other hardware. Remove them before you begin painting your oak kitchen cabinets and then reattach them once done.
Use a Grain Filler
Oak has open grain, with small cracks and holes in it. These imperfections show through the paint unless you use a filler to help smooth out the surface. Although some people prefer the grainy look, others may want the cabinets to appear smooth.
Don't Forget Primer
It's important to choose the right primer when preparing your old cabinets for painting. Primer enables the paint to stick better to your cabinets and it also helps to makes your paint job last longer by sealing the wood, preventing oil or grease bleed through, and drying hard.
Paint by Hand or Use Spray Paint
You can spray your cabinets or paint them by hand, but there are challenges and benefits to either option. Spraying the cabinets provides a better finished look, but it can be a little messy if you try to spray them inside. That's why professional kitchen cabinet painters often have dedicated facilities off-site that they use to spray paint your cabinet doors or drawers. Hand painting is also a good option, but you will have to ensure that absolutely no traces of dust or tiny fibres end up in the paint or on the brush, or this will create a rough, grainy look on your cabinets.
How Booth7 Can Help You
Tackling a big job like repainting your kitchen cabinets can be a stressful process, so why not hire professionals to help you? Booth7 can be your one-stop shop to give your kitchen or bathroom a fresh new look and style. Our services include a free in-home consultation, so you can get professional advice, colour consultation, competitive pricing, and custom designs that suit you.
To get started on your home renovation or any painting project, call Booth7 today! Fill out our online form or contact us at info@booth7.com.