Depending on the aesthetics, water resistance, durability, and return on investment (ROI) you want for your kitchen cabinets, either painting or staining could be the better choice for you. How can you know which option is best? If you need help choosing kitchen cabinet painting or staining for your kitchen cabinet refinishing project, here are some factors to consider, as well as the pros and cons of each choice.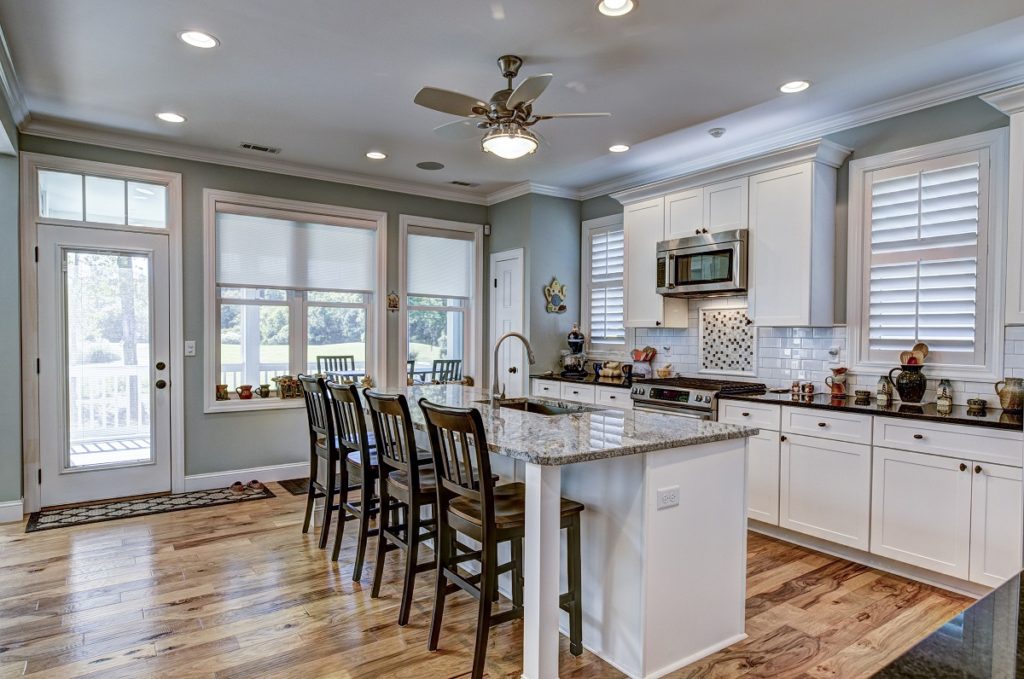 Painting vs. Staining Kitchen Cabinets
When deciding between kitchen cabinet painting or staining, here are some points to consider.
Aesthetics: Paint offers a smooth, modern look; Stain offers a traditional and natural look
Budget: Paint supplies are more costly than stain supplies
DIY: Stain is easier to apply on your own, while paint requires a skilled hand
Water Resistance: Paint is more resistant to water
Cleanliness: Paint shows less dust and more dirt, and stain shows more dust and less dirt
Longevity: Paint lasts about 10 years, while stain lasts for 20-30 years
Maintenance: Stain is washable and less prone to cracking
ROI: Both options have a high ROI
Kitchen Cabinet Painting Pros
Better Aesthetics
One of the pros of kitchen cabinet painting is that paint offers a clean, smooth aesthetic which is one of the reasons why people prefer it when refinishing their cabinets. Also, paint comes in a wide assortment of colours, so you can match it to your existing décor.
Smoother Finish
Paint has a thicker consistency than staining, which means that it can smooth and even out the surface of your cabinets. This is especially beneficial if you have small scratches or marks in your cabinets. With a few coats of paint, you can completely conceal these marks.
Works Well on MDF
If your cabinets are made of medium density fiberboard (MDF) paint is an effective way to upgrade the look of your kitchen. Paint applies better to MDF than staining, making it impossible to tell the difference between MDF and real wood.
Kitchen Cabinet Painting Cons
Hides Features
Since paint is thicker than stain it does not get absorbed by the wood on your cabinets. If you like the aesthetic look of wood grain and nuts in your wooden cabinets, paint may not be the best option for you.
More Expensive
Another con to kitchen cabinet painting is that it can be more expensive than staining especially if you must buy materials to sand down or repair your cabinets.
Deteriorates Faster
Since wood is an organic material, changes in humidity will affect it. If you choose cheap paint for your wooden cabinets, they will look worn within just a few years. This is because wood expands with higher humidity, causing hairline cracks in the paint near the joints. If you do choose to work with paint, be sure to hire professionals and have them spray paint for a seamless look.
Kitchen Cabinet Staining Pros
Highlights Wood Features
If you like the unique characteristics of your wooden cabinets, staining may be the better option for you. It has a lighter consistency than paint and will not conceal the characteristics and texture of your cabinets. Stain will seep into the surface of your cabinets to enhance the natural beauty of the wood.
Easier to Touch Up
Another great pro for kitchen cabinet staining is that you can purchase touch-up markers that are the same colour or close to the stain you chose for your cabinets. You can touch up any issues or scratches as they occur for a quality look throughout the years.
Costs Less
Whether you choose painting or staining, cost usually depends on factors like your kitchen size, cabinet construction, manufacturer, etc. However, stain tends to be the more affordable option, especially if you are flipping a house, remodeling a rental unit, or doing a quick upgrade.
Kitchen Cabinet Staining Cons
Does Not Work Well for MDF
One of the biggest cons for kitchen cabinet staining is that MDF does not take stain as well as paint does since it is unable to hide the blemishes on your cabinets. It may be best to choose paint when working with MDF cabinets as it will hide the grain and make your cabinets look like real wood.
Shows Blemishes
If you have high-quality, new wooden cabinets, stain is a good option because it does not hide characteristics of the grain. However, if there are blemishes in the wood, stain may not be the best option. Since stain is so thin, it will show uneven grain distributions or colour inconsistencies on your cabinets.
Not Ideal for Dark Surfaces
Although lighter coloured cabinets can chip and stain more easily, they work well at hiding dust that accumulates overtime. However, choosing a darker stain will make dust particles stand out even more which means you will constantly have to be polishing and cleaning your cabinets.
Booth7 Kitchen Cabinet Refinishing Services
Whether you want to repaint or stain your kitchen cabinets, it is best to hire professionals. Handling this job on your own could still lead to issues even if you use high-quality paint or stain. Without the right preparation work and techniques, your refinishing job can leave you feeling disappointed with the overall result.
Booth7 can be your one-stop shop to give your kitchen or bathroom a fresh new look and style and help you help make wise, affordable decisions about updating your home. As part of our professional kitchen cabinet refinishing services, we will remove your cabinets and take them to our facility to work on. Then we will reinstall them for you once they've dried, so there are no worries about your new cabinets getting ruined as they dry.
Our services also include a free in-home consultation, so you can get professional advice, competitive pricing, and custom designs that suit you. We handle all the details of your project from start to finish, so you can trust you are in good hands!
To get started on your home renovation or any painting project, call Booth7 today! Fill out our online form or contact us at info@booth7.com for a colour consultation.