If painting your laminate cabinets in your kitchen or bathroom is your next DIY project, there are some important things you need to consider before you begin. Repainting your cabinets is a very affordable way to transform and re-create your kitchen, especially since it costs a fraction of what it would cost to do a full-scale kitchen renovation. However, even the simplest of jobs can bring their own set of unique challenges! Laminate kitchen cabinet painting requires patience, the right materials, and manual technique, so if you're about to take on a DIY kitchen cabinet painting project, here are some tips to consider.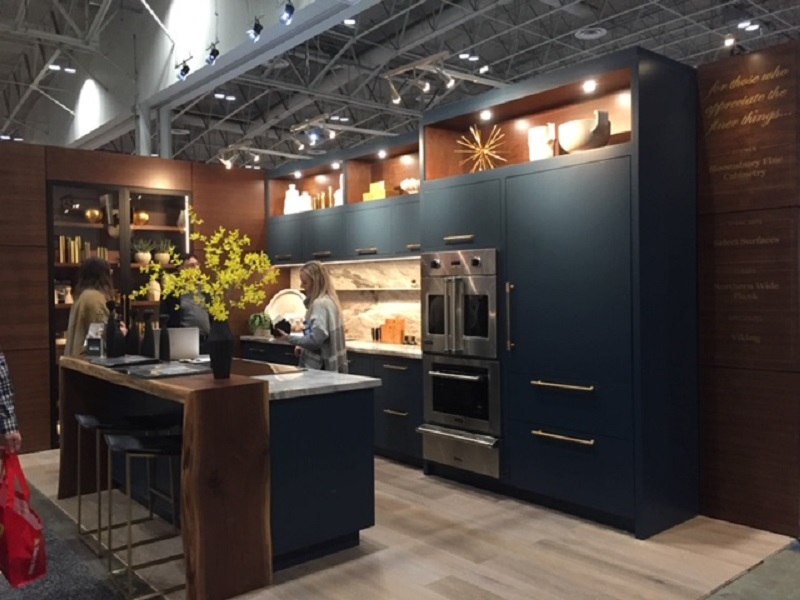 Choose the Right Tools and Materials
The first step before painting your laminate kitchen cabinets at home is to ensure you have all the right tools and materials. This includes the following:
Dust rags , cleaning cloth and tack cloth(s)
Painter's tape
Angled paintbrush
Mini foam roller
Paint trays
Facemask/respirator
Fine-grit sandpaper
Laminate cleaner
Laminate primer
Laminate paint
Fan
Paint sticks to stir paint
Large drop cloth or floor paper to cover kitchen surfaces
Rubber gloves for cleaning
Prepare the Kitchen Cabinets
Before you can add a single brush stroke of primer or paint to your kitchen cabinets, you must prepare the surfaces to ensure that the paint will adhere. To prepare, you should do the following:
Empty all your cabinets.
Remove any hardware, including knobs and handles, and place them in Ziploc bags with labels so you can remember which parts go with which cabinet
Remove the doors and drawers and use painter's tape and marker to label where each piece goes.
Thoroughly clean the surfaces of your cabinets using a cloth and laminate cleaner (be sure to wear gloves). This will help the primer and paint stick to the surface and remove any grease, dust or residue that could prevent a smooth job.
Any areas that you don't want paint on should be taped off (hinges, walls, edges). Cover up any kitchen surfaces where paint could spill, including the floors near the area. Have a cloth with cleaner ready in case there are any mistakes.
Prime the Kitchen Cabinets and Doors
Since laminate cabinets usually have a glossy or plasticized finish, you should prime the surface to ensure the paint will stick to the cabinets. Be sure to prime every area, including the doors and drawers and use primer that is designed for laminate cabinets.
Sand the Primed Kitchen Cabinets
After the primer has fully dried, it's time to sand the surface. This evens out the surface and removes any paint streaks or lines, air bubbles, and dust. It also gives the cabinet surface a gentle but slightly rough texture, so the paint can stick well. As you sand the surfaces, don't apply too much pressure. The key is to sand the thin layer of primer but not remove it off the cabinets to bare wood. As you work, dust off any debris with a dry brush (wear a face mask to prevent dust inhalation). Once you have sanded the cabinets, use a tack cloth to wipe down the sanded surfaces and help remove any residue.
Paint the Laminate Cabinets
Now that the surface is primed, sanded, and dusted off, it's time to paint. Choose a paint that is specially designed for laminate surfaces and apply it using even brush strokes. Make sure you give the paint enough time to thoroughly dry before you apply a second coat, or you run the risk or getting unattractive streaks. Open a window or have a fan running to ventilate the area.
Other Important Do's and Don'ts
Don't paint over damaged laminate: If it is cracked, peeling, or warped, you should not paint it. The laminate must be in good condition—you should repair or replace any damaged sections to ensure the paint will bond to the laminate.
Don't use old primer or paint: Laminate requires specific type of paint to bond with, so if you have old primer lying around, the consistency and quality may not be good for the job.
Do test the paint first: Before you begin painting your cabinets, you should always do a patch test. Test how well it bonds to a part of the interior of the cabinet before starting your entire paint job. If the paint peels or appears bubbly, it means the paint is not adhering well and you should find a more suitable paint for the laminate.
Do minimize your exposure to paint fumes: With most paints, there are strong fumes that release into the air. You should increase ventilation in the area as best you can and keep pets and children out of the area.
Remember that even if you have the right preparation and use the proper painting techniques, the best way to ensure your cabinets look professional is to actually hire professionals. Professional cabinet painters will remove your cabinets and paint them in their own facility to ensure there are no lingering paint smells in your home. They also use spray equipment to create a smooth, even finish—something that's hard to achieve by using a roller and paint brushes during a DIY project.
How Booth7 Can Help You
If you're looking for licensed and experienced kitchen cabinet painting professionals, look no further than Booth7! We are equipped, trained, experienced, and ready to give your kitchen or bathroom a fresh new look and style. One of the major advantages of working with us is that we work on your project from start to finish in our facility, so you can continue using your kitchen. In addition, we use low VOC lacquer, so there are no lingering paint fumes when you get your finished product.
Our services include a free in-home colour & design consultation, professional advice, competitive pricing, and custom designs that suit you. We handle all the details of your project from start to finish, so you can trust you are in good hands! To get started on your home renovation or painting project, call Booth7 today! Fill out our online form or contact us at info@booth7.com.