Are you in the market to refresh the aesthetic of your kitchen and your kitchen cabinetry? Kitchen renovations and cabinet replacements often come with an astronomical price tag. Painted kitchen cabinets on the other hand, give you the option to revitalize the look of your kitchen without breaking the bank.
Oftentimes, the kitchen is regarded as the heart of the home. It's the central part of the home where friends and family congregate to share delicious meals and spend quality time together. Touching up or painting your kitchen cabinets can make them look new again without incurring exorbitant costs. But it's also important to administer proper kitchen cabinet maintenance to prevent damages and extend the lifespan of your cabinets.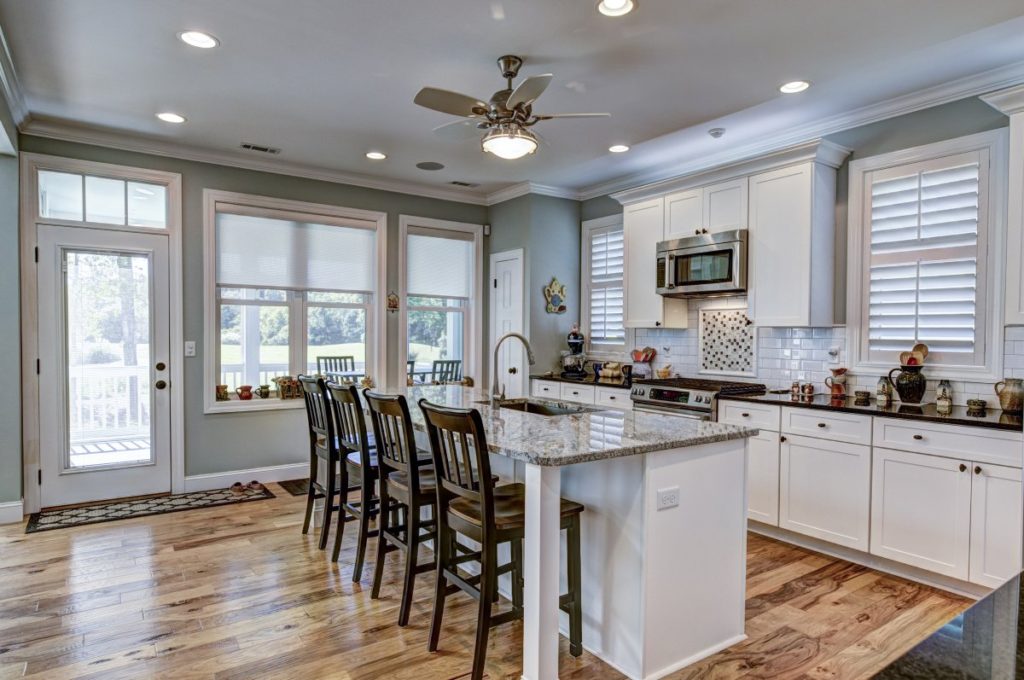 Factors Affecting Newly Painted Kitchen Cabinets
From cooking and daily usage to steam, chemicals and food stains, kitchen cabinets put up with a lot on a daily basis. Whether you're installing brand new kitchen cabinets or refurbishing your existing ones, it's important to be aware of the many factors that can prematurely wear them down and age them quickly. Always keep in mind that newly painted and refinished cabinets take approximately 30 days to FULLY cure. Daily use is not a problem, but extra caution should be taken to not hit the newly painted areas, expose them to extreme heat or excessive moisture.
Indoor Climate and Related Factors
Indoor climate can have a huge impact on newly painted kitchen cabinets. Climate-controlled environments are ideal for freshly painted kitchen cabinet finishes. Keeping a cool temperature throughout your home, particularly during the hot summer months, can help the paint fully cure, prevent the wood from swelling, and reduce drying time.
Cooking can heat up your kitchen very quickly, so you should probably avoid it for about 24-48 hours or longer depending on the type of finishes you've chosen for your cabinets. The heat, smoke and steam from cooking food could cause discolouration and the paint to peel if it hasn't had time to properly set.
UV Light
Constant direct exposure to harmful UV lights and sunshine can extensively damage your newly painted kitchen cabinets, causing discolouration and colour fading. It doesn't matter whether your cabinets are made from natural wood or synthetic materials because the effect is the same. If your kitchen has windows or your home gets a lot of natural light exposure, consider installing sunlight-blocking drapery or blinds to prevent sunlight from damaging your cabinets.
Oven Heat
Exposing your cabinets to oven heat is inevitable, but you should try to avoid it as much as possible for at least a couple of days after painting your kitchen cabinets. This is especially true of using the oven self-cleaning mode. If your wooden cabinets are close to your oven they could be seriously damaged by the intense heat from the self-cleaning mode. If the paint hasn't fully cured, then exposure to too much heat from the oven can prolong the process and cause some of the paint to melt off. If you have to cook while your newly painted cabinets are drying, then make sure to always turn the hood range fan on full blast to suck up as much as the heat and steam as possible.
Keep in mind that extreme temperature fluctuations can also naturally cause wood to expand and contract, so it's important to maintain a climate-controlled home all year long.
Smoke/Steam from Cooking
Inevitably, your kitchen cabinets are going to be exposed to some degree of smoke or steam depending on how often you cook and how strong your range fan is. Steam and smoke can easily be absorbed by wood cabinets, causing them to expand and contract over time. Prolonged and unprotected exposure to large amounts of smoke or steam can also cause your cabinet paint to crack and become discoloured.
Cleaning Newly Painted Kitchen Cabinets
Thorough and consistent cleaning is an important part of kitchen cabinet maintenance. Cleaning your cabinets regularly can help prevent permanent damages and keep your kitchen looking and feeling fresh and clean at all times.
Basic Kitchen Cabinet Cleaning Tips
Grease and grime buildup can tarnish the look and feel of your kitchen cabinets. Follow these cleaning tips to protect your newly painted kitchen cabinets and keep them looking newer longer.
Avoid using abrasive cleaners or harsh chemicals. Over time, these can strip away even the most durable paint. For best results, use gentle cleaning solutions like two parts warm water and one part dish soap. Alternatively, you can also mix two parts hot water with one part white vinegar to clean your cabinets safely and gently.
Don't spray cleaning solution directly onto your cabinets. Instead, spray small amounts of the cleaning solution on a soft microfiber cloth and gently wipe down your cabinets. After wiping them down with the cloth, dry them with a soft paper towel or a clean cloth.
Use a baking soda and warm water mixture to tackle particularly tough stains or hard-to-reach places with a toothbrush.
Be mindful of how much liquid you're using to clean your cabinets. Slightly damp cloths work best because they prevent the liquid from getting into the hinges that support your cabinets. Wet hinges can quickly become rusted and difficult to clean or replace.
Avoid certain cleaning agents such as ammonia, glass cleaner, silicone base, spray cleaners, citrus cleaners, petroleum solvents, wax base, powder bleach, magic erasers, and scouring pads. All of these contain either corrosive chemicals or abrasive materials that can cause extensive damage to your cabinets.
How to Care for Your Newly Painted Kitchen Cabinets
To maintain longstanding aesthetic appeal and functionality, it's important to properly care for your new painted kitchen cabinets. Here are some basic daily and long-term cabinet care tips.
Daily Cabinet Care:
Prevent permanent staining by immediately cleaning up grease, food, liquid spills, and fingerprint marks on your cabinets.
Don't hang wet or damp dishtowels directly over cabinet doors. Prolonged exposure to moisture can cause your cabinets to warp, causing irreversible damages and even discolouration.
Use a microfiber cloth to dust your cabinets instead of dishcloths or sponges as these are more likely to attract bacteria.
Long-Term Cabinet Care:
Fix cracks, scratches, and dents immediately.
Perform extensive exterior cabinet cleaning at least once or twice a year.
Adjust hardware such as drawers, hinges, screws, and runners periodically.
Perform routine touch-ups to prevent further damages that are harder to fix.
Looking for more kitchen cabinet care tips? The kitchen cabinet experts at Booth7 can answer all of your questions. Our professional kitchen cabinet refinishing services include a free in-home consultation, so you can get professional advice, competitive pricing, and custom designs that suit you. We handle all the details of your project from start to finish, so you can trust you are in good hands. Contact us today to book a consultation!