Have you been taking some time during the pandemic to work on your home? If so, it's important to know what trends are dominating the interior design world this year. There are some interesting kitchen cabinet colour trends of 2020 that can breathe new life into your tired and outdated kitchen. You'll be pleasantly surprised how much a colour change can transform you space. If you're thinking about refinishing your kitchen cabinets, here are some hot colour tends to keep in mind when having your kitchen cabinets painted.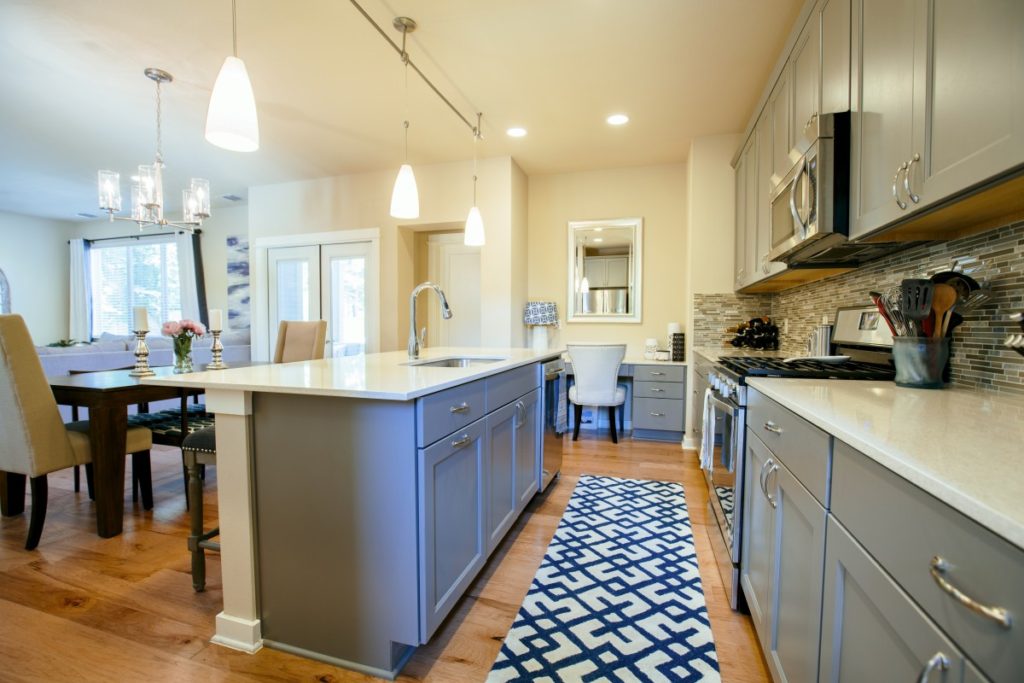 Cool Blues
A popular fall kitchen colour trend for 2020 is cool blue. Cerulean and primary blue are bright, vibrant colours, but the trend is leaning more toward grey-based navy and softer blues. These colours are cooler and easy on the eyes, and work well with stark white and neutral colours in the home. Cool blues are a great look for homeowners who prefer a relaxed, beachy feel to their homes.
Grey Tones
Another great option for kitchen cabinet refinishing is grey. This is the go-to colour for kitchen cabinets in the home because it isn't as harsh on the eyes as white, but still works well with virtually any colour. Dark gray grout is dominating the backsplash scene and looks great beside other shades of grey, white, and black.
White and Off-White
White and off-white are colours that will never go out of style. White shades continue to be extremely popular in 2020 as the number one choice for kitchen cabinets. White cabinets are bright, modern, and sleek and can liven up the kitchen. For small spaces, they visually expand the room and bring a clean look to the space. This choice also allows for the most flexibility with other décor and design elements in the home.
Various Shades of Green
Green is another beautiful, modern colour for kitchen cabinets. They look great in all design applications, as different shades evoke different moods. Grey-toned greens can be very soothing and modern, while brighter greens can give the room a country-vibe. Whichever shade, tone, or brightness level you choose, green is a great look that is rising in popularity for 2020.
Mixed Wood Tones
Some homeowners love industrial looks, while others prefer the natural, raw look of wood and neutrals. But a rising look for 2020 is a combination of both. The rustic-industrial look is a perfect contrast between warm, earthy, wooden cabinets, and metallic, elegant fixtures of home décor. There are endless ways to enjoy this look, whether you're a minimalist or art collector.
Muted Colours and Shades
If the light gray and white look no longer appeals to you, muted colours and shades are a hot trend this year. More homeowners and designers are embracing colours like warm ivory and charcoal. More people are leaning toward the aesthetics of English country kitchens, where you tend to see these unique colour choices.
Refinish Your Cabinets with Booth7
If your kitchen cabinets could use some sanding and repainting, we're here to help. The professionals at Booth7 can give your home a quick, affordable upgrade with our refinishing services. We are a one-stop shop and our professionals will handle all the details of your project from start to finish, so you can trust us to get the job done right! Just check out our reviews on HomeStars or Google!
Ready to get started? Simply fill out our online form or contact us at info@booth7.com to get a free consultation and estimate today! Our staff will respond to your inquiry within a few hours. If you have a specific idea in mind, let us know! We'd love to see a photo of your existing room and ideas of what inspires you.