Are you looking to upgrade the look of your kitchen but don't know where to start? There's no better place than with your cabinet finish. Furniture painting and refinishing can instantly bring new life into any room, and it's especially true for one of the stars in your kitchen—your cabinets. 
But when deciding on which type of finish is best for you, it helps to know a few things first! Should you go glossy or matte? In this blog post, we will discuss how choosing between these two finishes could make all the difference in helping to upgrade your Vaughan-based kitchen.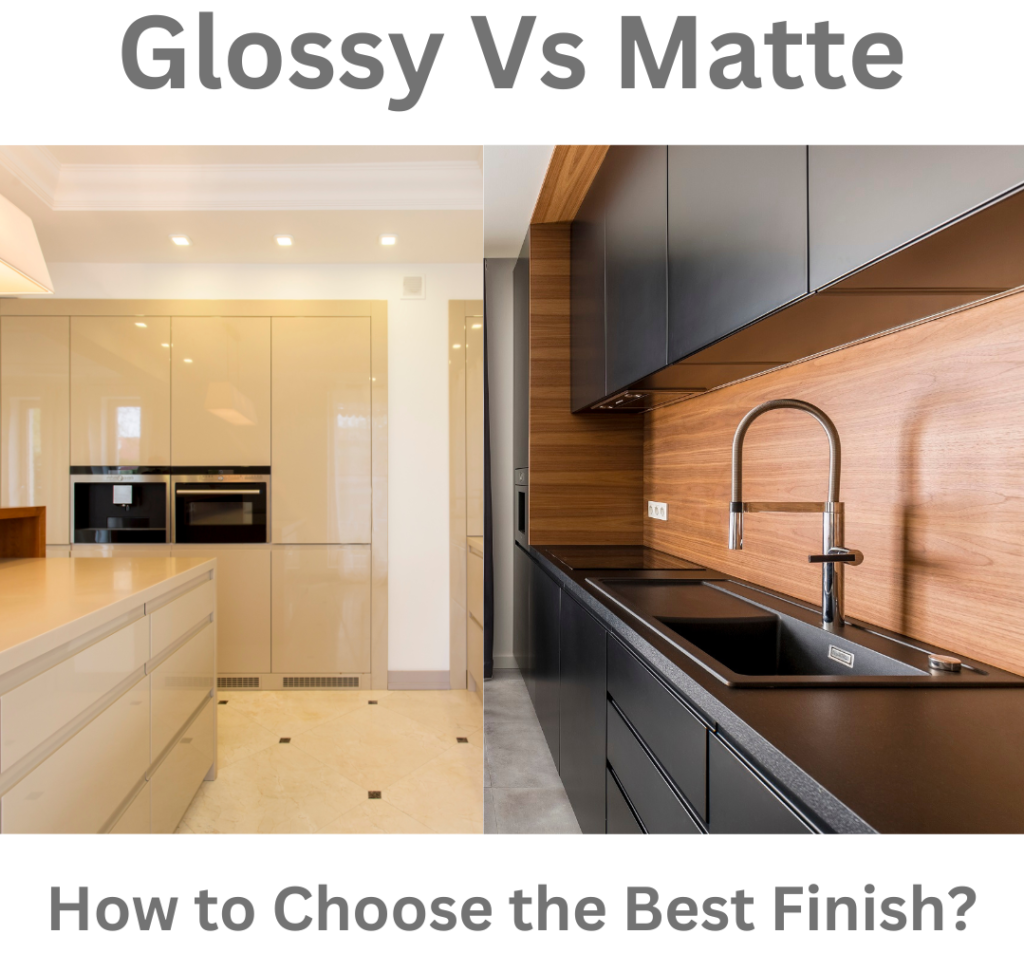 What Is Kitchen Cabinet Refinishing?
Kitchen cabinet refinishing is an affordable way to give your kitchen a brand new look and a refresh. It allows you to completely change the look of your cabinets without having to replace them. 
With this process, the old finish is removed and then replaced with a new one, such as paint or stain. This provides many benefits, such as dramatically changing the look of certain cabinets, achieving a more uniform feel throughout the kitchen, and, best of all, saving money while getting a great new updated look for your kitchen.
Glossy vs. Matte Kitchen Cabinet Finishing
When refinishing kitchen cabinets, a major decision that homeowners face is choosing between glossy or matte paint. Each type of finish has its own advantages and disadvantages. Below, we compare the differences between glossy vs. matte kitchen cabinet finishing and a few factors you should keep in mind.
Type of Finish
Glossy paint has a smooth finish that reflects light, which is great for making the kitchen cabinets appear larger. On the other hand, matte paint has a more subtle look; its low-sheen luster gives it a smooth and elegant feel. Depending on the desired look of the kitchen cabinets, either glossy or matte paint can be used. 
Durability
While glossy paint is known for delivering a stunning sheen, it's typically not as durable as the flat, less shiny matte paint. A major upside of glossy paint is that it's easy to clean, resists smudging and conceals blemishes well—though you may need more than one coat of it for complete coverage. 
Cleaning
In terms of cleaning, a matte finish paint is considered to be easier to clean since it does not attract fingerprints or other smudges because of its smooth but non-reflective finish. Glossy paint, on the other hand, may need some additional light scrubbing for a true deep clean, but it will still look attractive even with everyday cleanings. 
Cost
When it comes to kitchen cabinet finishing, both glossy and matte paints can work for creating a refreshed look, but there are varying levels of cost and longevity associated with each option. Glossy paints tend to be more expensive, while matte paints come in a range of prices. That said, all matte paints typically provide the same amount of coverage and protection. 
Resistance to Wear
Because of its lower gloss finish, matte paint is often used in areas susceptible to dirt build-up or high foot traffic. Matte paint can also look great when paired with certain styles or accents and tends to feel more classic compared to glossy. Glossy paint, on the other hand, may require periodic waxing and recoating due to its higher wear resistance.
Kitchen Style
Glossy paint provides a sleek and modern look, reflecting more light than its matte counterpart which tends to provide a smoother and softer aesthetic. Both glossy and matte kitchen cabinet finishes can be combined to create interesting visual effects. For instance, glossy trim around doors and drawer fronts paired with matte cabinet panels can add depth and draw attention to detail.
Kitchen Size
Depending on the size of your kitchen, glossy vs. matte paint is a major factor when refinishing kitchen cabinets. The larger the space, the more likely it is that a glossy finish will help reflect light and provide an overall brighter feel to the room. On the other hand, if your kitchen is on the smaller side, then matte paint can be a great choice to add some texture and depth to your cabinets. 
Should You Choose Glossy or Matte Kitchen Cabinet Finishing?
Choosing the right kitchen cabinet finishing can be a difficult decision but it's important to make sure that you look at all options and consider your lifestyle when making the decision. 
Glossy finishes are popular these days because they provide good light reflection while still being relatively durable. On the other hand, matte coatings offer excellent durability and hide minor surface imperfections. 
Ultimately, deciding between glossy or matte paint for kitchen cabinet finishing comes down to style preference and personal taste. Try to envision what would look best in your kitchen before settling on either option!
Contact Booth7 for Kitchen Cabinet Refinishing in Vaughan
If you're still not sure what option would look best in your kitchen, talk to the experts at Booth7. 
As refinishing contractors in Vaughan, we are your one-stop shop to give your kitchen a fresh new look and style and help you help make wise, affordable decisions about updating your home. We handle all the details of your project from start to finish, so you can trust you are in good hands with your cabinet refinishing project in Vaughan!
In addition, we only use water-based, low VOC lacquer and solvents that are very consumer and household-friendly. Our lacquers and solvents are guaranteed to not leave a lingering paint smell and to be safe for all occupants in your home. 
To get started on your home renovation or furniture refinishing project in Toronto or the surrounding area, call Booth7 today! Fill out our online form or contact us at info@booth7.com.