If you're like most homeowners in Vaughan, you're probably looking for ways to update your kitchen without spending a fortune. One way to do this is by refinishing your kitchen cabinets. In this article, we've compiled a list of the top kitchen cabinet colour trends that are expected to dominate the market next year. Whether you're looking for a sleek and modern look or something more traditional, these kitchen cabinet colour trends for 2023 will have you covered! Keep reading for some great ideas.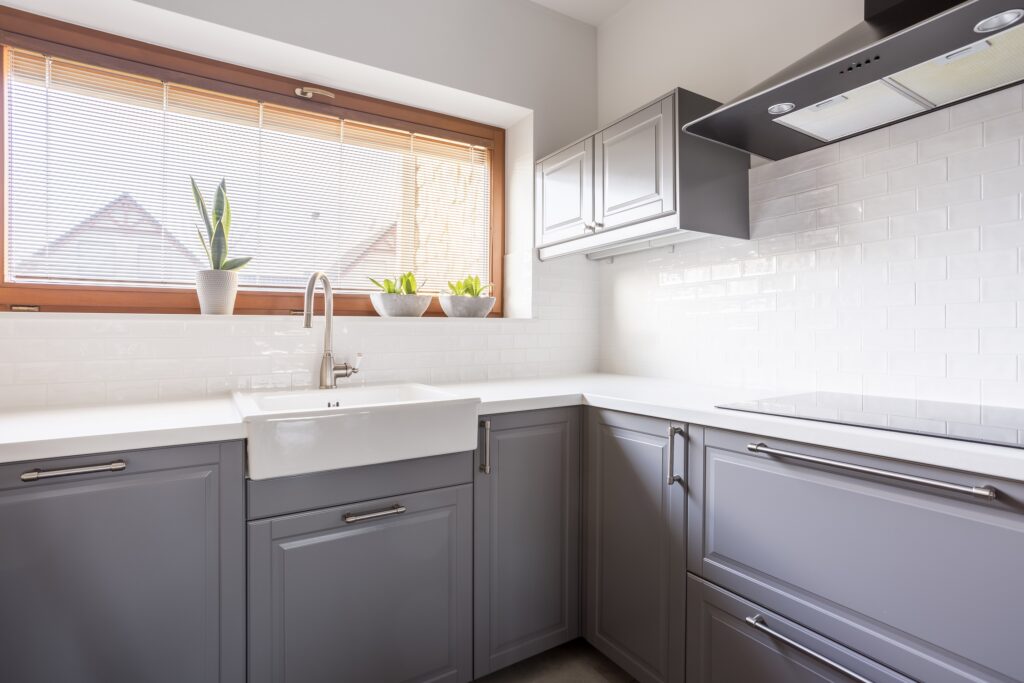 Classic White Colours
One of the most resilient trends when it comes to kitchen cabinets is the incorporation of classic white colours. White cabinets are timeless, simple and can be used to create a bright and clean look that is perfect for contemporary homes. Plus, bright whites match nearly any colour scheme and can be combined with any style or design detail. For those that want their kitchens to look professional and noticeable but still looking trendy and modern, white cabinets are always a great choice.
Calming Earth Tones
One of the largest kitchen cabinet colour trends for 2023 are calming earth tones such as muted greens, blues and greys. Not only do these tones bring a sense of serenity to the room and create a balance between the walls and flooring, they also add a modern aesthetic to the space. To further enhance this look, why not consider adding hints of silver metallics or even natural wood accents?
Mixed Metal Finishes
When it comes to refinishing kitchen cabinets, one trend that stands out as a gorgeous addition to any kitchen are mixed metal finishes. By painting parts of your cabinets in contrasting metals like silver, gold, and bronze, you can achieve a unique look in your kitchen. The combination of these different metallic shades creates texture and definition, while also being perfect for those who like modern interior design.
Mint Green
This sophisticated yet edgy colour will bring a fun and modern feel to any cooking space. It's hue mixes deep green and blue tones that bring an airy lightness to your kitchen or dining area, while still feeling bold and confident. Whether you choose to hire a painting contractor to paint your entire kitchen mint green, or just as a pop of accent colour, mint green is sure to perk up the atmosphere of your home. 
Classic Two-Toned Cabinets
For those looking to create an eye-catching kitchen design, a popular trend is two-toned cabinets, where the upper and lower-level cupboards have contrasting colours. Mixing shades of whites, blues, greys, and even greens can bring style and sophistication to your home. Using this technique will add dimension to your cabinets while also drawing attention to them as part of the overall design of your kitchen. 
Rustic Natural Finishes
It seems that the latest cabinet paint colour trend for 2023 is moving away from harsh, glossy finishes to more natural tones, or lower sheen levels. Rustic-style cabinetry has recently become hugely popular, featuring muted colours with subtle grain patterns that bring a unique vibe to any kitchen. This look stands out for its durable and timeless qualities, allowing people to create a timeless space that still offers a homey feeling. 
Bold Colour Combinations
The latest colour trends for kitchen cabinet painting are focused on bolder combinations that create a unique look that stands out from the crowd. Popular colour schemes include bright yellows and oranges, paired with matte black for a sleek, modern vibe, or evocative blues and greens perfectly matched with glossy white for a crisp, timeless aesthetic. For those seeking a truly unique look, mix and match patterns for the ultimate style statement!
Dusty Pink Hues
Kitchen cabinet colour trends have been changing over the years, and one of the more unique hues that has recently become popular is a soft, dusty pink shade. Whether painted in a solid hue or mixed and matched as an accent to neutral whites and greys, this delicate shade is making waves in modern kitchens with its soothing, contemporary appeal. It can also be combined well with solid black or navy blue for a dynamic yet feminine touch in the kitchen. 
Mello Yellows
Mellow yellows have been all the rage in kitchen cabinets as of late, and we anticipate them being one of the top kitchen cabinet colour trends for 2023. Whether you choose a pale, pastel shade to add a pop of sunshine to subtle creams and beiges or want to make a statement with muted mustard tones, this trend injects personality and vibrancy into any decor. 
Warm Colours with Different Textures
Those who want to stay on top of the trends are choosing warm tones, often with a variety of different textures that can make their cabinets shine. Colours like yellow golds and sage greens give a bright look to traditional kitchens, while more modern shades like navy blues create a more interesting mix that really stands out. Whether opting for a single tone or making an interesting mix, adding different textures—such as a lacquer finish or embossed patterning—also injects life into these new kitchen cabinet colour schemes. 
Muted Greys
The versatility of muted greys makes them easy to work with as they complement any existing shades or decor. The low-key tones ooze sophistication and elegance whilst still providing a subtleness that can often be missing in more vibrant colour schemes. With the right accents, muted greys create an inviting atmosphere perfect for socializing in a stylish yet comfortable environment.
Call Booth7 Today to Refinish Your Kitchen Cabinets in 2023
Have these kitchen cabinet colour trends for 2023 inspired you? If you're in the market for kitchen cabinet painting in Vaughan, leave it up to the professionals at Booth7. Our professional painting team can recommend the right colour paint for your home and ensure a long-lasting seamless finish. Contact us today to learn more about our kitchen cabinet painting services.