You've probably heard the saying "the kitchen is the heart of the home" many times in your life. After all, the kitchen is where we spend the majority of our time when we're at home. Whether it's preparing meals or spending time with family, modern open-concept kitchens serve multiple purposes.
Aside from the living room, the kitchen is also the natural gathering place for social events. So why not make your kitchen your own? Discover how two-tone kitchen cabinets can add a beautiful splash of colour and a unique flair to your kitchen.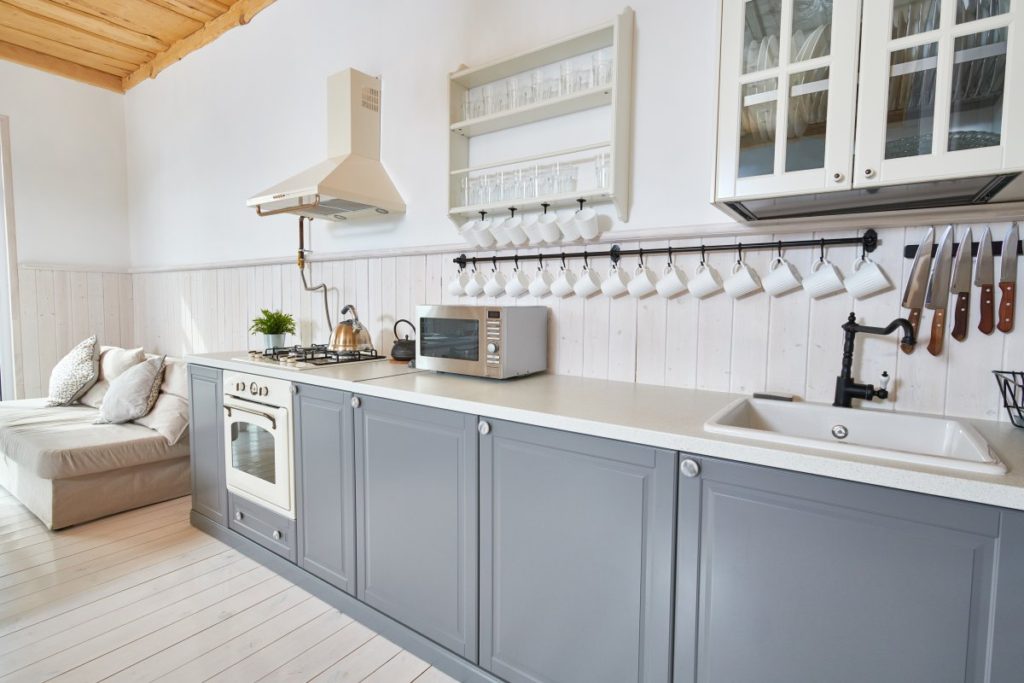 What Are the Benefits of Two-Tone Painted Kitchen Cabinets?
If you are considering getting your kitchen cabinets painted, here are a few reasons why you should consider going two-tone.
Transform Your Space
Every once in a while, it's nice to change things up a little in your home, especially since many of us have been forced to spend most of our time there. Beautiful two-tone kitchen cabinets have the ability to completely revamp your kitchen and lift your spirit.
Stunning Aesthetic Appeal
Another benefit is that two-tone kitchen cabinets are visually appealing and memorable. Anyone who sees your new kitchen will be completely taken aback by how stunning and different it looks.
Increase the Value of Your Home
Kitchen updates, re-painting and remodelling have the potential to add the most resale value to your home. Two-tone kitchen cabinets are an easy and affordable way of revamping your existing wood cabinets and making them look brand new again.
Create the Illusion of a Larger Kitchen
Contrasting painted kitchen cabinet colours and tones can create the illusion of a much larger space. Pairing a white, ivory, or cream-coloured top half with a darker toned bottom half can actually make your kitchen look a lot bigger and brighter.
Tips for Two-Tone Kitchen Cabinet Painting
Select or Create a Focal Point
A focal point is an architectural feature that's designed to naturally draw the eyes in. This can be anything from a beautiful stone wall, a unique backsplash or even lighting fixtures and hardware. Whatever focal point you choose, it should complement the style of your kitchen while standing out without being too overwhelming to the senses.
Go Light on Top and Dark on the Bottom
As mentioned, choosing a lighter paint colour for the top half of your painted kitchen cabinets opens up the space and gives it the appearance of being bigger than it actually is.
Consider a Dark Colour Inside Your Glass Cabinets
Painting the inside of a glass door cabinet a darker colour will allow your light coloured dishes and glassware to really "pop" out against the dark background. It is also a unique feature that sets you apart from your friends and neighbour(s).
Choose the Right Hardware to Match Your Aesthetic
What look are you going for? Are you interested in a modern, rustic, or classic style? Or would you prefer a combination of some or all of these styles? Depending on your stylistic preferences, it's important to choose hardware designs such as drawer handles and lighting fixtures that match your cabinets.
Kitchen Cabinet Painting and Colour Consulting Services from Booth7
Booth7 provides high-quality premium kitchen cabinet painting and refinishing services in Toronto and the GTA for an affordable price. If you're kitchen needs a makeover but you're not prepared to spend thousands of dollars on a full-scale renovation, then a simple kitchen cabinet painting or touch-up project can make a world of difference to revamp your space. Contact us today to get a free colour consultation and estimate!