If you have alder wood cabinets and are looking to give your kitchen an update, one of the best ways to do that is to refinish your kitchen cabinets. While it is possible to paint alder wood kitchen cabinets, it is important to properly prepare and prime the surface before painting to ensure a smooth, long-lasting finish.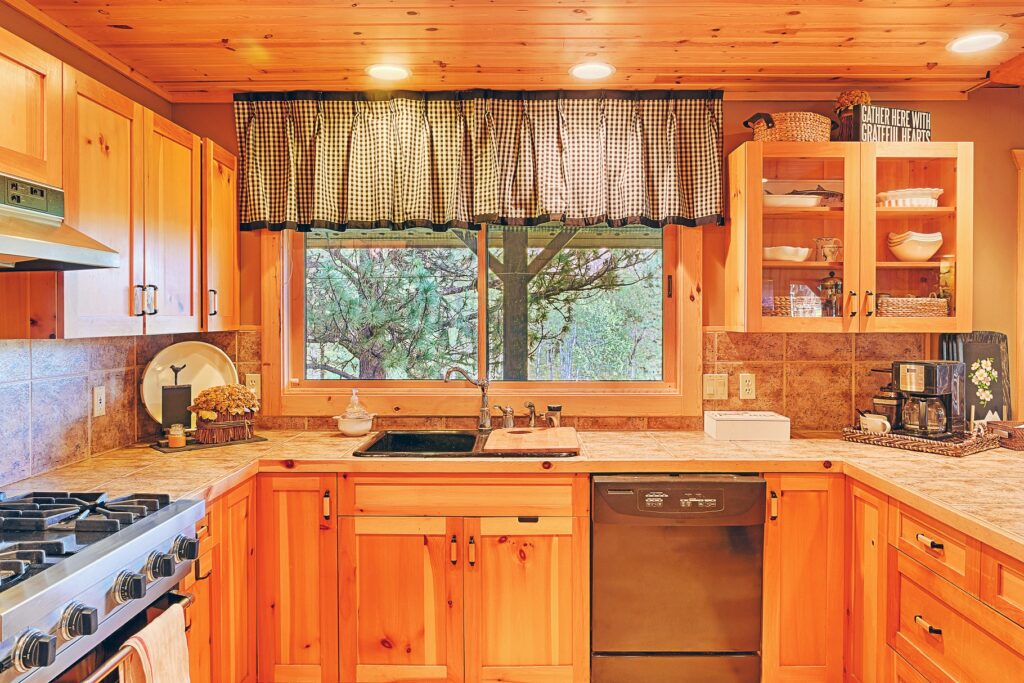 Below, we offer some tips on how to paint alder wood cabinets. 
What Are the Types of Alder Wood Cabinets?
There are two types of alder wood cabinets: knotty and clear. Both types have very distinct appearances. 
Knotty Alder Cabinets:

Knotty alder still has the knots that appear in a lot of wood. These knots add a rustic look to the cabinetry and are ideal for traditional looking kitchens.

Clear Alder Cabinets:

Clear alder wood is mostly (if not fully) absent of knots. They have a medium density and are considered a softer hardwood. Look for the wave-type grain of the wood. These types of cabinets would be suited in a modern or contemporary kitchen.
Tips for Painting Alder Wood Kitchen Cabinets
Sand the Entire Cabinet Door:

Sand the entire cabinet door and clean it before painting to create a smooth surface for the paint to adhere to.

Seal the Wooden Knots and Cracks Properly:

Use wood filler or sealant to fill in any cracks or knots in the alder wood before painting. This will prevent paint from seeping into these areas and creating an uneven finish.

Prime the Surface:

Apply a primer specifically made for wooden surfaces before applying your chosen topcoat of paint. This will ensure that the paint adheres properly and lasts longer.

Choose a High-Quality Paint:

Choose a high-quality paint in your desired colour and finish (e.g., satin, gloss, etc.). It is worth investing in a good-quality paint as it will create a smooth finish and have better longevity.

Use Multiple Thin Coats:

Rather than applying one thick coat of paint, apply multiple thin coats for a smoother finish. Allow each coat to dry before applying the next.

Seal with a Topcoat:

Once your desired colour is achieved, seal the paint job with a topcoat for added protection and shine.  

Use Grit Sandpaper to Sand the First Coat of Sealer:

Once the topcoat has dried, use grit sandpaper to lightly sand and smooth out any imperfections in the finish before applying a second coat of sealer. Repeat this step for as many coats as desired for a polished, professional finish.

Choose Alder Finish Colours for a Rustic Finishing. Alder wood has a rustic appeal, so choose paint colours that enhance this look. Shades of brown, green, and gray would complement the natural tones of alder wood cabinets. Avoid bright or stark colours as they may clash with the rustic feel.
Finishing Colour Options for Alder Wood Kitchen Cabinets
When dealing with alder wood, you have to be selective in the type of finish you select. Some colours look better on knotty alder wood than clear alder, so you want to select carefully.
Clear and Rustic Finish:

For a clear alder cabinet, try a light gray or cream shade to enhance the smooth appearance of the wood grain. 

Knotty Alder Finish:

For knotty alder cabinets, opt for darker shades such as brown or deep green to bring out the rustic look of the knots. 

Rustic Cherry Finish:

For a "cherry wood finish" to your alder wood cabinets, try warm or earthy shades such as burgundy, rust red, or dark brown to enhance the natural colour of the wood.
Contact Booth7 for Painting and Refinishing Alder Wood Kitchen Cabinets in Vaughan!
If you are unsure about painting your alder wood kitchen cabinets or do not have the time and resources to do it yourself, consider hiring a professional like Booth7. We view every kitchen renovation and cabinet painting project as if we were doing them for our own family. That level of devotion paired with our exceptional expertise guarantees that your kitchen cabinets will always be in good hands with us. 
No matter the scope of the project, we guarantee the quality and speed of our work. Contact us today to learn more or to book our services for your kitchen renovation.