Are you thinking about repainting your kitchen cabinets? Whether your style is subtle and classic or dramatic and sensational, these kitchen cabinet colour schemes are a great place to begin! As you prepare to upgrade and paint your kitchen cabinets, consider the mood your want to evoke in your kitchen and the atmosphere you want to create. If you need a little inspiration, this guide of terrific kitchen cabinet colour combos will help you choose the right colours to transform your kitchen.
Pale Green
Pale green is a timeless colour that looks great in the kitchen. The soft, muted hue freshens up the space to give your kitchen a welcoming atmosphere and it is a great alternative to white, especially for those looking for a hint of colour. Pale green contrasts well with colours such as smoky grey, light nudes, and pale pinks.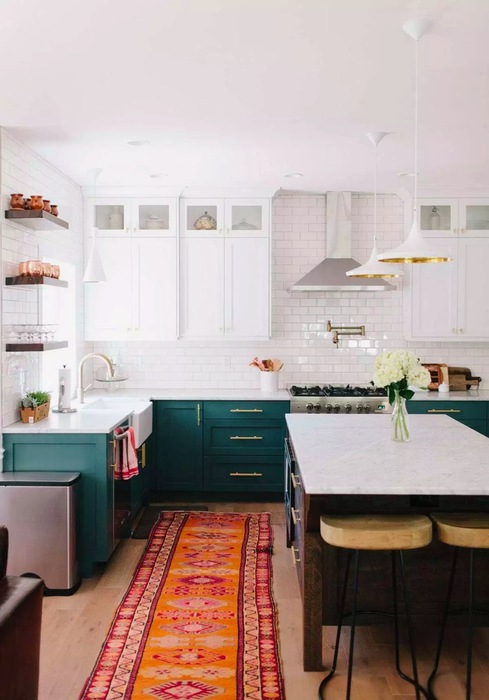 Dark Green
Rich, deep green or pine colours look great on kitchen cabinets or walls because they have a calming effect and add depth to the space. When paired with white and beige it creates a harmonious look to brighten up the kitchen. If you prefer a cooler look, you can pair the dark green with colours like steel grey and black.
Navy Blue or Gray
With so many shades of blue, it's no wonder why it's a favourite for wall and cabinet colours. A unique option that is very popular in modern kitchen décor is a deeply saturated shade of navy blue. If your kitchen has natural sources of light and is bright, the blue tones will really pop! The dark colour contrasts well with white, light grey, yellow or green. Since it is closer to grey or black than other shades of blue, this navy will really enhance the mood of your kitchen.
Soft Blues
Another soft colour that evokes the same atmosphere as pale green is this soft blue. For a bright, vibrant look that creates a feeling of inspiration even on Monday mornings, pair it with a soft yellow or cream white. This soft blue also looks great with pale greys and warm brown woods. Want to create a more subdued mood in the room? Take the colour down a few notches and opt for this blue-hued slate grey.
How Booth7 can help you
Repainting your kitchen cabinets or walls is an exciting time—especially as you see your room transform into a space that inspires you and makes you feel comfortable. Booth7 can be your one-stop shop to give your kitchen a fresh new look and thanks to our free in-home design and colour consultation, you can get professional advice, competitive pricing, and custom designs that suit you. We handle all the details of your project from start to finish, so you can trust you are in good hands!
To get started on your home renovation or any painting project, call Booth7 today! Fill out our online form or contact us at info@booth7.com for a colour consultation.