The holidays are almost here, and many people are thinking of ways to update their home in preparation for visiting friends and family. Unfortunately, buying all-new furniture and completely renovating the home is not in the budget for everyone. Complete renovations can be timely and expensive, and with holiday gifting and travelling, it may seem out of the question. The good news is, there are other ways to update your home and impress your guests. Upgrading your kitchen cabinets alone can transform the look of your kitchen. Your cabinets likely take up a lot of space on your walls, so giving them a fresh new coat of paint or sanding and smoothing out imperfections will go a long way. There are many myths about refinishing kitchen cabinets that homeowners believe—here are the most common confusions about kitchen cabinet refinishing and the reality about them!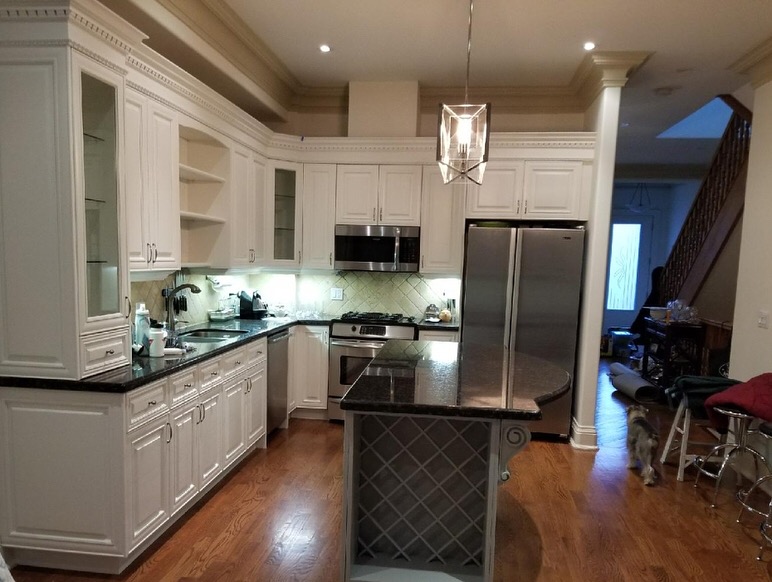 Myth #1: Too Expensive & Too Lengthy of a Project
Contrary to what many people may think, kitchen cabinet refinishing is quite affordable compared to a complete renovation. Depending on the time of year and workload of the contractors, it can take just two to three weeks to make your cabinets look as good as new. It is usually a third of the price of getting your cabinets replaced completely, and can be done in a fraction of the time.
Myth #2: Does Not Increase Home Value
When you invest in an upgrade for your home, the hope is that it will increase the value of your home when you are ready to sell. Switching out carpet for hardwood flooring or finishing your basement are both great options to spike your home's value; however, not everyone is prepared for such a huge project at this time of year. On the other hand, kitchen cabinet refinishing also improves your home's value. The average return on investment of renovating your entire kitchen is 70% when you sell your home, as long as you choose neutral colours and styles that appeal to most buyers. Kitchen cabinet refinishing is a great way to raise the value of your home.
Myth #3: Sanding Isn't Necessary
Unless you want a clumpy, bumpy finish, your cabinets will need to be cleaned, repaired, and sanded. Sanding ensures a smooth, dry surface for the paint to adhere to. If you do not sand your cabinets before painting, you will be very disappointed to realize your paint is peeling off or looks uneven.
Myth #4: Priming Is a Waste of Time
Just like when you paint your walls, priming is an important step in kitchen cabinet painting. Priming covers up the colour of the wood to prevent it from bleeding through the paint. Without priming, you may notice a yellowish tint under your paint, making your cabinets look old very quickly. If you don't have time to manage a project like this, there are professionals who can remove your cabinet doors and drawers, sand, prime, and paint them to look brand new, as well as reinstall them in your kitchen.
Myth #5: Can't Refinish Damaged Furniture
If some of your kitchen cabinets have been damaged, you might think you need to replace all of them to make them look uniform. That is also an expensive and lengthy project and it may not be necessary! Instead of redoing your entire kitchen, you can repair and refinish the damaged cabinets.
Myth #6: Painting around the Hardware Saves Time
It might sound like a good idea to save time and simply paint around the hardware, but if you have to repaint all your cabinets, you will notice where the hardware rubs off on the paint. To avoid this, the hardware will need to be removed.
Myth #7: The Paint Odour Lasts for Days
The kitchen is the part of your home where you spend most of your time. It can be a warm, comfortable environment where you and your family and friends can circle around and enjoy a meal together. If you're concerned about your newly refinished cabinets stinking up your home, you can breathe easy. Our professionals can give your home a fresh new look and style, without the smell that makes you feel nauseous. That's because we only use environmentally-friendly, water-based, low VOC lacquer and solvents. These materials don't leave lingering paint smells and fumes, so you can go straight to enjoying your new kitchen.
Why Choose Booth7?
If you want to give your home a quick upgrade before the holidays without spending money you don't have or perhaps make upgrading your kitchen a new year's resolution, we have many services that can help you! We think outside of the box when it comes to home upgrades, and there are many affordable projects we can work on that will dramatically transform the look of your kitchen. At Booth7, we are a one-stop shop and our professionals will handle all the details of your project from start to finish, so you can trust us to get the job done right!
Ready to get started? Simply fill out our online form or contact us at info@booth7.com. Our staff with respond to your inquiry within a few hours. If you have a specific idea in mind, let us know and attach a photo of your existing room and get a free consultation and estimate today!