Kitchen cabinets are one of the main focal points of your kitchen. Regardless of their design and colour, they immediately draw the eyes in. You don't want the first thing people notice about your carefully selected kitchen cabinets to be how dirty they are. Proper maintenance and routine cleaning will keep your kitchen cabinets looking and functioning like new for many years to come, even if they happen to be refinished.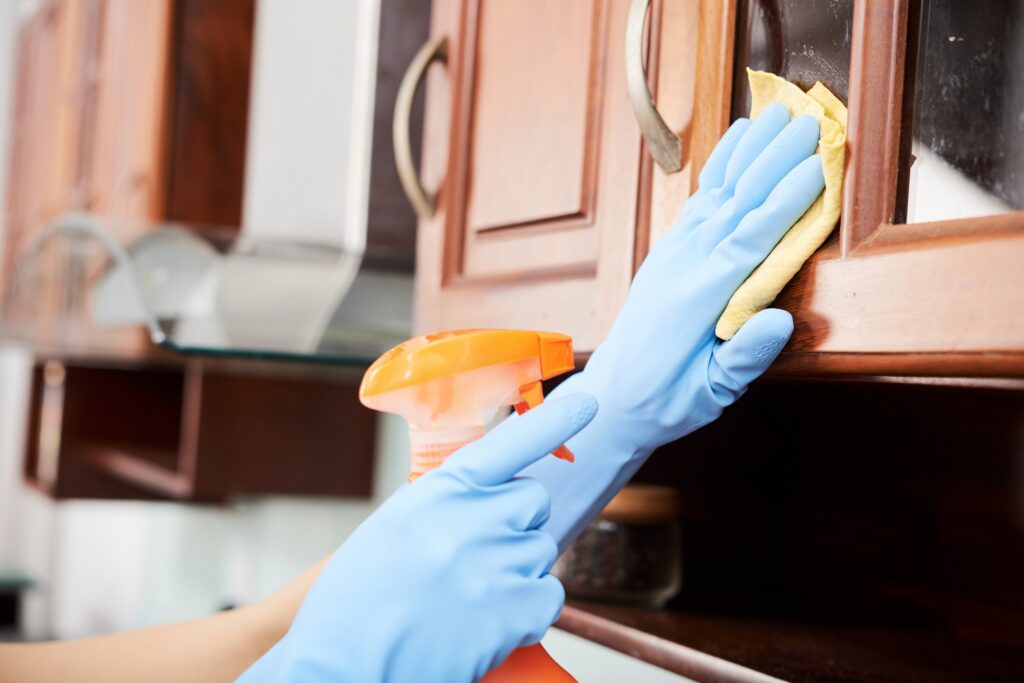 But there's a lot more to kitchen cabinet cleaning and maintenance than simply wiping them down with a damp cloth every once in a while. It's important to know which kitchen cabinet cleaners work for specific materials like wood or laminate. 
Using the right cleaning techniques for certain materials also matters. For instance, cleaning wooden kitchen cabinets is a whole different ball game from cleaning laminate kitchen cabinets. 
The Effects of Acidic vs. Alkaline Cleaners on Wooden Kitchen Cabinets
There are three categories that cleaning solutions can be classified under on the pH scale: acidic, alkaline, and neutral. pH measures how acidic or basic a chemical solution is. It ranges from 0 to 14. Seven falls in the middle and substances that clock in at 7 are neutral. Anything below 7 is considered to be acidic to varying degrees. Substances that are categorized with a pH higher than 7 are considered basic or alkaline, which means they contain more mineral deposits.
What does this have to do with cleaning wooden kitchen cabinets? A lot, actually. Most wood used for kitchen cabinetry has a pH ranging between 4 to 6, which makes it slightly acidic. The acidity levels depend on the type of wood used and even from one tree to another in the same species based on environmental elements to which they're exposed. Additionally, the pH balance can also vary from the heartwood (external portion of the log) to the sapwood (the internal portion of the log).
Naturally, kitchen cabinet cleaners with either an acidic or alkaline pH balance will result in some sort of chemical reaction with your wooden kitchen cabinets. Since it's impossible to know the exact pH balance of your wooden kitchen cabinets due to its individually distinct nature, there's no telling what kind of reaction store-bought cleaning products will have with your cabinets.
More often than not, high alkaline cleaners such as sodium hydroxide, ammonia, or baking powder result in permanent iron tannate discolouration. In other words, you'll be left with difficult or impossible-to-remove dark streaks and stains across your beautiful wooden kitchen cabinets. Alternatively, highly acidic cleaners such as white vinegar, lemon juice, and tile cleaners are highly abrasive and corrosive to the extent that they could damage the wood. 
Kitchen Cabinet Cleaning Do's
Here are a few great tips and tricks to help you avoid damaging your kitchen cabinets while giving them a fresh look. 
Dust Regularly
Even if it's not completely noticeable, your kitchen cabinets are constantly exposed to grease and grime residue from your home cooking. Throw in dust and other airborne allergens into the mix and you've got a recipe for little balls of grime sticking to your kitchen cabinets. To prevent this from happening and to keep your kitchen cabinets completely dust-free—especially if you have an open concept floor plan that allows dust to permeate throughout your home—take the time to thoroughly dust and vacuum your home at least once a week. 
Clean with Mild Dish Soap and Warm Water – NO CHEMICALS
Located in one of the most commonly used areas of your home, kitchen cabinets are subject to a lot of use. People are constantly leaning, touching, or brushing against them and opening and closing them to retrieve different items. This can result in a lot of fingerprints and smudges across your cabinetry, not to mention grease and grime as well as water marks, stains, and sticky messes. 
Use a mixture containing a few drops of dish soap in a bucket or bowl of warm water to quickly and easily wipe away impurities that befoul your kitchen cabinets. Water is neutral and dish soap has a mild pH balance that can safely and effectively clean your cabinets, making them look like new. Use a soft microfiber cloth or the soft side of a sponge to gently clean your cabinets.
Rinse and Dry Kitchen Cabinets Thoroughly
Whether you're using a gentle store-bought or homemade kitchen cabinet cleaner, it's important to make sure that you thoroughly rinse or wipe it off to remove any residue that could result in watermarks when dry. Use a soft microfiber cloth to carefully dry your cabinets completely so that they don't absorb any liquid.
Kitchen Cabinet Cleaning Don'ts
Now that you know a few tips and tricks to maintain your kitchen cabinets and keep them clean, here are a few things you should avoid doing.
DO NOT Use Vinegar
White vinegar is a common product found in most households. It's extremely versatile and can be used for a number of different applications from adding a tangy flavour to your favourite dishes to cleaning tough stuck-on grease and grime. However, it's highly acidic and you should avoid using it to clean your kitchen cabinets as it can strip the finish or paint and cause serious damage.
DO NOT Use Baking Soda
With a pH balance ranging between 8 and 9, baking soda is considered to be highly alkaline, which means it's corrosive to both finished and unfinished wood and laminate. 
DO NOT Use Olive Oil
Olive oil is a non-drying oil, which means it leaves an oily residue on your cabinets. Not only is it not an effective cleaning agent, but it also results in a sticky film that will attract dirt, dust, hairs, and airborne allergens to stick to your kitchen cabinets. 
Consider Professional Kitchen Cabinet Refinishing in Toronto
When at-home cleaning solutions and techniques just don't cut it, it may be time to consider hiring a professional kitchen cabinet refinishing company in Toronto to reinvigorate your cabinets. 
At Booth7, we offer professional and courteous kitchen cabinet refinishing services. We are your one-stop shop to give your kitchen a fresh new look. Our services also include free in-home consultation, competitive pricing, and custom designs. We handle all the details of your project from start to finish, so you can trust that you are in good hands!
Ready to get started? Simply fill out our online form or contact us at info@booth7.com. If you have a specific idea for your kitchen refinishing project, attach a photo of your existing room when you e-mail us, and get a free consultation and estimate!