Decorating or remodelling your kitchen can be a daunting task. The kitchen is the heart of the home and the main area where most people tend to congregate when they come for a visit. The kitchen sets the tone for the stylistic choices you make throughout the rest of your space, especially if you're working with an open concept layout.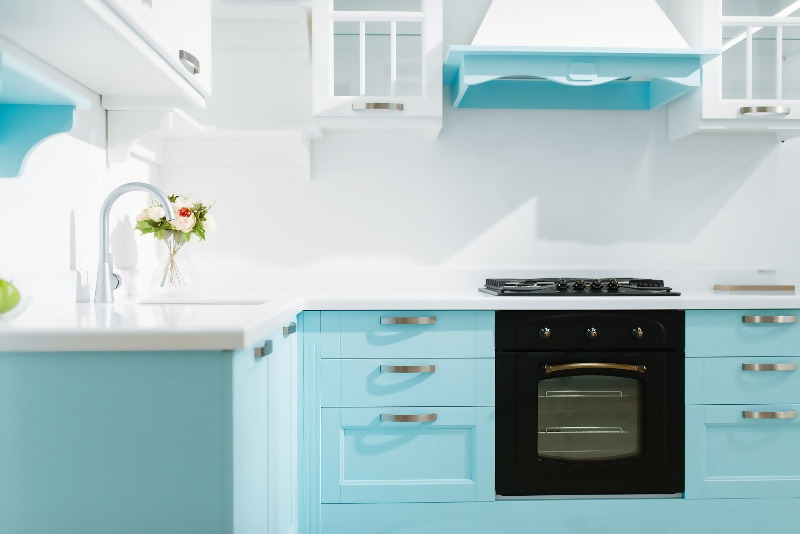 Essentially, the kitchen ties the rest of your space together and is the sole unifier. Many homeowners tend to gravitate toward all or mostly white coloured kitchens, starting with the cabinets and backsplashes. Although there's nothing wrong with that if that's what you like, it can get stale pretty quickly and everything tends to just blend in. If you want a little more colour in your home, start with your kitchen cabinets. 
Keep reading for some great kitchen cabinet painting trends and ideas that encourage you to truly express your creativity and style. 
Barely Blue
Shades of soft blue are the perfect gateway to transition from an all-white or neutral kitchen cabinet palette to adding a little colour into your space. Not only does this create a soft and inviting focal point in your kitchen, but light blue is also known to have a very calming psychological effect which is just how you want your guests to feel when in your home.
Emerald Green with Gold Finishes
Unfortunately, this colour combination won't actually transport you to Emerald City, but it'll sure make you feel like you are there. Emerald, or lighter green cabinets with gold hardware finishes are very in right now, but they're also a very timeless and classic look that you can enjoy for many years to come. 
Two-Tone Kitchen Cabinets
If you're not fully committed to the idea of having a single colour running through your entire kitchen or you want to break up the colour scheme, then you can opt for two-tone cabinets featuring a neutral colour on top and a bright or bold tone on the bottom. Kitchen islands also make the perfect centerpiece for multi-tone cabinets. Choose a crisp, clean neutral tone such as white, off-white, or grey for the main cabinets and pair them with a bold island featuring a white countertop to bring the whole space together. 
A Mix of Earthy Tones
Not to sound too dramatic, but kitchen cabinet colours are a personal choice. Trends come and go, but at the end of the day, you're the one who has to live with the choices you make—in life and in your kitchen. Earthy tones are a great choice if you want to add a little bit of colour into your space without overwhelming the senses. Select a colour palette that accentuates your space and makes it feel bigger and more inviting. This will maximize your comfort and enjoyment of your space. 
Book a Kitchen Cabinet Colour Consultation in Toronto
At Booth7, we believe in delivering excellent service with a smile. If you're looking for kitchen cabinet repainting advice and services in Toronto, then you've come to the right place. We'll take the time to listen to and fully understand your needs, so that we can make appropriate kitchen cabinet colour and refinishing recommendations that are perfectly suited to your taste. Book a kitchen cabinet colour consultation with us today.