Choosing the right paint colours for your kitchen cabinets is a big commitment that can make a world of difference in terms of bringing your aesthetic vision to life. The paint colours you choose for your kitchen cabinets should depend largely on the size and layout of your kitchen, along with the design of your cabinets, countertop, and backsplash. Additionally, you should also consider how much natural light you get in your kitchen and the type of hardware you have in there. Are you also planning on expanding or redesigning your kitchen to make it more modern? Or are you going for a more rustic-chic look?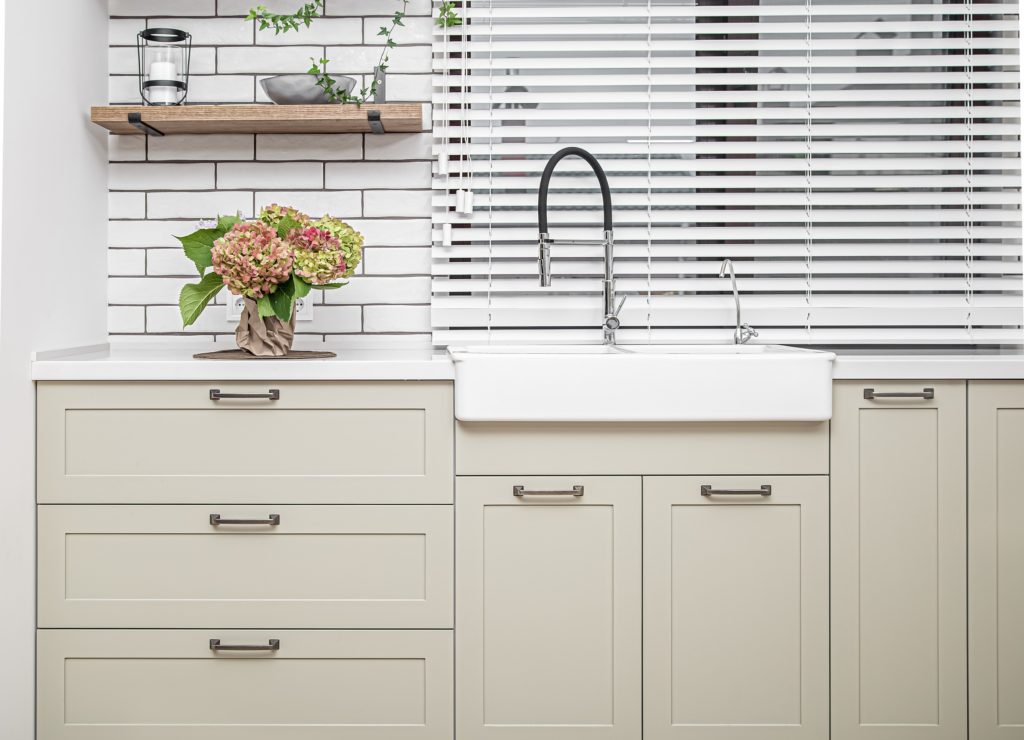 Are you planning on doing a full kitchen remodel or do you simply want to repaint or refinish the cabinets? Deciding the extent of your remodelling or renovation project can be difficult, especially if you're the DIY type and are working on a strict budget. Take a look at some of the top kitchen cabinet colour trends of 2021 to get a few ideas.
Shades of Blue/Green with a Hint of Grey
Many kitchen design experts say the same thing: kitchen trends don't change drastically overnight. They evolve slowly over long periods of time. The combination of a light accent blue/green tone coupled with a complementary grey colour is a timeless aesthetic that elicits feelings of calm and happiness. One of the biggest trends of the past few years is that people are moving more toward warmer shades that make them feel at peace in their homes. This is essential since the kitchen is where people spend most of their time. 
Forest and Yellow/Green
Another major trend that's guaranteed to stick around for a long time is the more natural look. With forest and yellow/green shades throughout your kitchen, you can truly feel at one with nature. Plus, little pops of yellow or even purple can help add a little more "wow" factor to your kitchen.
Classic White Cabinets
One kitchen cabinet refinishing trend that's always going to be in style is having classic white cabinets. Whether it's a crisp sharp shade or creamy off-white, white cabinets are a great option for a more simplistic look that matches pretty much any other texture or colour. If you want to upgrade certain features of your kitchen again in the near future, you can do so effortlessly because white matches virtually any other colour and material. 
Deep Blue and White Cabinets
Blue cabinets have been in vogue for a few years now. Combined with a sharp white tone, blue cabinets create a crisp clean and beautiful two-tone aesthetic that has a simultaneously calming and mood-brightening effect. Paired with brass, chrome, or black hardware and a large white farmer's sink along with a crisp off-white or light grey hexagonal backsplash and you have the perfect marriage of a classy yet fully functional kitchen.
Black Kitchen
Black is a great contrast to the classic all-white kitchen designs that have become popular throughout the past decade. Of course, an all-black kitchen is somewhat of an acquired taste and doesn't work for everyone or every space. If you have limited square footage in your kitchen, then you're most likely going to opt for a much lighter and brighter colour palette to make the space seem larger than it really is.
Black can add a certain layer of class and sophistication to moderately sized or large kitchens, especially when paired with brass or chrome hardware and offset with a bright white countertop or backsplash. Plus, any items of colour you sprinkle throughout the kitchen (e.g., a fruit bowl or vase full of bright yellow lemons or green limes) will pop with more intensity against the black background.
Grey Kitchen Cabinets
Like white, grey is another popular and widely versatile kitchen cabinet paint colour that looks great on its own or paired with another shade. Whether you're going for a softer lighter tone or a darker shade of grey, it can work well in virtually any size kitchen space. What's trending this year is a lighter tone of grey that's typically mixed in with beige or an off-white creamy colour (AKA – Greige). This tone creates a light and airy kitchen that makes the space bigger and has a strong calming effect. The great thing about mixing in grey with white or off-white tones is that you can spruce up the space by adding additional pops of colour throughout.
Grey and white or beige can also be complemented well with stainless steel or even black appliances to give your kitchen a sharper, more modern look.
Natural Wood Kitchen Cabinets
Natural wood has been making a pretty significant comeback over the past few years because it pairs well with a variety of colours and styles including light blues, greens, and whites. These are far from your grandma's natural wood cabinets from the 1970s. Updated with a more modern and classy finish, natural wood cabinets are an ideal addition to any kitchen. They create a bright and airy rustic chic look that's very much on trend in 2021 and the near future. 
Two-Toned Kitchen Cabinets
Two-toned kitchen cabinets have seen a massive growth in popularity over the past few years and we predict this trend will continue well beyond 2021. Providing the perfect combination of class, sophistication, fun, and creativity, two-toned kitchen cabinets add a nice splash of colour that breaks up all-white or single tone colour palettes beautifully. You can choose any combination of colours that matches your space or aligns with your stylistic preferences. Or you can go with single tone cabinets on the sides and break it up with a different colour for your kitchen island. 
Choose Booth7 for Kitchen Cabinet Design, Painting, and Refinishing in Toronto
Whatever your dream kitchen design looks like, the kitchen cabinet repainting and refinishing experts at Booth7 can help you bring your vision to life. We provide fast, friendly, and affordable kitchen cabinet repainting and refinishing services in Toronto and across the GTA. We also pride ourselves on providing excellent customer service and cost-effective kitchen cabinet repainting and refinishing solutions to help our customers stay within their remodelling or renovation budget. Contact us today to get a free project estimate!