Holiday celebrations usually entail a lot of family get-togethers and hosting dinner parties. 'Tis the season to start adorning your space with funky decorations inspired by the spirit (not to be confused with spirits) of Christmas. Bows, ribbons, bells, garlands, and Santa Claus-themed décor is usually in abundance this time of year as people get ready to dust off and unpack their Christmas decorations. Incorporating bright, bold, and festive colours into your decorating scheme can really transform your space into a quintessential winter wonderland.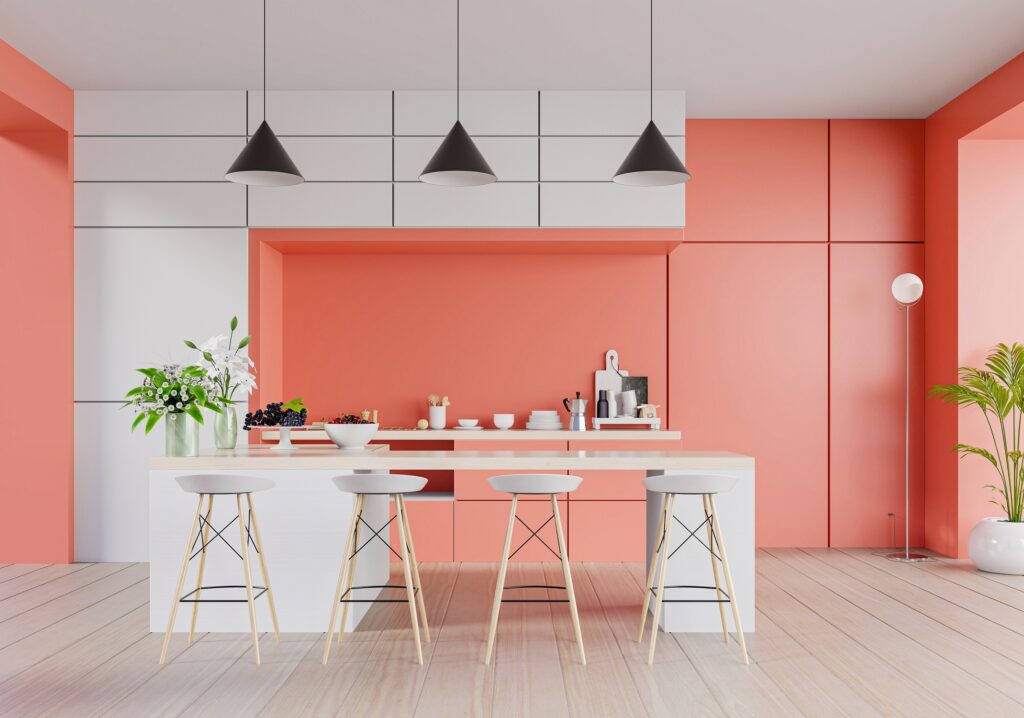 Why not keep the momentum going all year round by including one of the most commonly used spaces in your home—the kitchen. Here are some awesome kitchen cabinet painting ideas to bring a little holiday cheer into your home all year round. 
Elegant Classic White
Crisp, white cabinets add a touch of elegance to your cooking space. White or any other lighter tone is also the perfect choice for a small kitchen because it makes the space look a lot bigger than it is. Because it's neutral, white can be paired with virtually any other colour or accents you choose to really make the space pop.
Go Bold or Go Home
Spacious kitchens with lots of natural lighting can accommodate dark and bold shades like navy blue, plumb, grey, or even classic dark brown. Paired with a neutral or complementary backsplash, these shades also work well for your seasonal and year-round décor. 
Two-Tone Cabinets
Two-tone kitchen cabinets have been trending for a number of years now because they're a great way to add a splash of colour or accent into an otherwise neutral space. Lighter tones usually go on top while darker tones go on the bottom to create the illusion that your kitchen is more spacious than it is. Colour combinations include white or cream-coloured cabinets on top and dark navy or emerald green cabinets on the bottom. 
Two-tone cabinets are also perfect for kitchens that feature a large island in the middle. All of the cabinets along the wall can be one colour while the cabinets on the bottom of the island can be a different colour to create a unique focal point and contrast. 
Choose Warm, Inviting Tones
Rustic themes that include browns, soft greys, creamy whites, and wooden features provide the perfect backdrop for all of your seasonal décor options. Pairing them with unconventional countertops like a butcher block, stainless steel, or concrete add a high-end universal appeal that's easy to clean and maintain.
Pelt
Add a little drama (the fun kind) to your life and make a statement by painting your kitchen cabinets a deep plumb colour. Otherwise known as Pelt, this rich shade consists of red and dark purple undertones that really stand out against a plain white subway tile backsplash accompanied by a white marble or quartz countertop with grey lines and silver hardware finishes. Perfect for spacious kitchens that get a lot of natural light, pelt adds a year-round holiday warmth and flair without overwhelming the senses. 
Light Grey
Light grey offers a beautiful, rich neutral backdrop that lets your seasonal décor shine by making it the focal point. This creamy grey hue has an incredible calming effect that's perfect for helping you deal with the holiday stress that can be brought on by preparing large meals and hosting family gatherings in your home. Plus, it ties in all of the festive green, red, and gold embellishments adorning your home. 
Copper Pot
There's something about old-fashioned copper cookware that elicits a warm and fuzzy feeling of comfort and security. Even if it's not the best quality cookware in the world, it can make you feel nostalgic for a simpler time in your life. Incorporating copper or pumpkin spiced elements in your kitchen décor, whether it's the walls or an accent cabinet colour, is like wrapping yourself in a warm, cozy blanket with a hot cup of tea and sitting by the fireplace while reading a good book on a cold winter's day. It's that familiar feeling of being right at home in your own space, with Christmas cookies baking in the oven.
Coffee
You don't necessarily have to be a coffee lover to appreciate the warm yellow and light green undertones of coffee-coloured paint throughout your kitchen. This light and bright paint colour makes you feel like you're in a fancy European bakery or coffee shop enjoying a warm and delicious beverage, which is a feeling we can all appreciate.
Duck Green
Duck green is the perfect shade for nature lovers who want to constantly feel like they're right in the middle of the forest starting a fire during a weekend camping trip. This dark evergreen shade is perfect for the holiday season because it already incorporates rich green hues. All you have to do is add some red and gold decorations, and you're good to go.
Texas Rose
Texas rose is a beautiful, muted salmon pink colour that adds a funky kind of charm to any space throughout your home. It works especially well in a spacious well-lit kitchen with crisp or creamy white cabinets to brighten up your space on even the darkest winter days. Contrary to what you might think, it won't make you feel like you're living in Barbie's Dreamhouse, but it can have the power to instantly uplift your spirits just in time for the holiday season.
Bring Your Holiday Vision to Life with Professional Kitchen Cabinet Painting and Refinishing Services in Toronto
At Booth7, we always say that the kitchen is the heart of the home, and we stand by that statement. If you're in the mood to revamp your cooking space with some holiday flair this season, our expert kitchen cabinet painting professionals can help bring your vision to life. Simply tells us what your ideas are, and we'll come up with a practical strategy to make it happen. Our goal is to take your kitchen cabinet painting and refinishing project to the next level with our professional services. Contact us today to learn more.