The kitchen is where you probably spend most of your time at home. Whether you're scrounging around looking for late night snacks, cooking a meal for your family, or even just socializing with friends, the kitchen is the center of your home. It's where people naturally congregate when visiting your home. It's where all the action happens, especially around the holidays.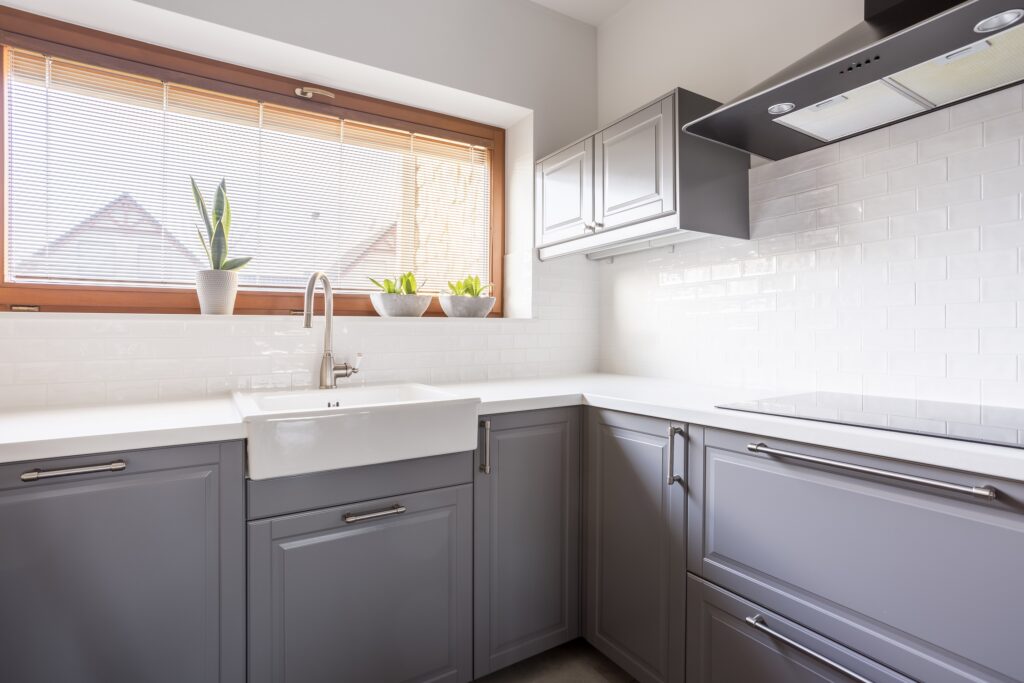 Something about the aroma of food cooking or being served just attracts more people to your kitchen space. Open concept kitchens, which are fairly common these days, make it easier for people to gather for the holidays because they combine multiple spaces in a common area. 
If your kitchen seems lacking in holiday cheer this year, why not spruce it up with an awesome kitchen cabinet repainting and refinishing project just in time for your holiday festivities?
Reasons to Repaint Your Kitchen Cabinets before the Holidays
Last year, lockdown restrictions prevented families from being able to celebrate the holidays together. If it's your turn to host the holidays this year, make the most of it by making up for lost time. Here are a few reasons why you should consider hiring kitchen cabinet painting contractors in Toronto to beautifully transform your cupboards before the holiday season.
It's Time to Give Your Kitchen Cabinets a Makeover
If you haven't updated your kitchen in a while or the cabinets are looking a little worse for wear, there's no better time than the present to get them refinished with a fresh coat of paint. 
Refinishing or Repainting Kitchen Cabinets Is Less Expensive Than Replacing Them
Over the years, kitchen cabinets can sometimes accumulate minor superficial damages such as scratches, dents or peeling paint. As long as the damages are minor and your cabinets are still fully functional, they don't necessarily need to be replaced. Repainting or refinishing your kitchen cabinets is a far more cost-effective solution to bring new life to them and make them look brand new again. 
Your Kitchen Will Be Ready and Usable in Time for the Holidays
If your goal is to complete your kitchen cabinet or refinishing project before the holiday madness starts, then now is the perfect time to start looking for a colour consulting service in your area. The sooner you get started, the sooner the project will be completed, so it's one less thing you have to worry about during the holiday season. 
Treat Yourself to a New Kitchen Design
Think of refinishing your kitchen cabinets as a little gift to yourself this year. After all, you deserve it!
What Are Some Seasonal Colours for Your Kitchen Cabinets?
Why not have the kitchen cabinets complement your holiday décor? Here are some feasible and seasonal colour options that'll brighten up your kitchen this holiday season.
Greige.

A combination of grey and beige, this is a safe neutral option that goes with pretty much any colour scheme or décor in your home. 

Citrus yellow or lime green.

Ideal for neutral or plain looking kitchens, a bright citrus yellow or lime green shade is the perfect way to brighten up a space and add a unique pop of colour. It may not be to everyone's taste, but the only opinion that matters when it comes to your kitchen cabinets is yours. 

Creamy neutrals like winter white, taupe, or silver grey.

You can't go wrong with a crisp neutral tone that enhances or serves as a backdrop for other accent colours in your kitchen. These are the easiest shades to work with because they go well with virtually any décor. 

Dual-toned cabinets.

Also known as two-toned kitchen cabinets, this style is very much on trend right now. Some might say it's a little too trendy to the point of being overdone, but that depends on what styles you're going for and what your preferences are. Common colour combinations include crisp white top cabinets paired with emerald green or navy-blue bottom cabinets with brass gold, silver, or black hardware and a white farmers' sink. 
Factors to Consider when Choosing New Kitchen Cabinet Refinishing Colours
Choosing new colours for kitchen cabinet painting and refinishing is a pretty big decision—one that you or the next owner of your home will have to live with for a very long time. Here are a few important factors to consider in the process.
Consider Colour Palettes That Match Your Existing Décor
Unless you're planning on completely revamping your entire home décor from top to bottom or the space surrounding your kitchen, you should try to draw some inspiration from the existing colour schemes in your home. This will help create a uniform and polished look. 
Let the Cabinets Serve as Accent Pieces
If you're home décor consists of too many neutral tones, why not create a little drama in the kitchen by turning some of your cabinets into accent pieces? Use stunning and bold colours that are guaranteed to pop and create unique focal points in your kitchen. 
Consider the Resale Value
The resale value of your home should always remain in the back of your mind any time you're redecorating or remodelling your home. Stick to neutral tones if you're planning on putting your house on the market in the near future. This serves the dual purposes of attracting more buyers and restoring damaged or dinged up kitchen cabinets. 
Paint Finishes to Consider for Your Kitchen Cabinets
Satin sheen.

A 10-degree sheen level is recommended and is equivalent to a Satin sheen It's easy to clean and maintain and leaves a nice, clean finish and hides all imperfections. 

Semi-gloss.

A 20- to 25-degree semi-gloss sheen level gives an excellent shiny finish that brightens up the colour of the paint and it's also incredibly durable and easy to maintain. This is used frequently with bathroom vanities or wall units.
Hire Professional Kitchen Cabinet Painting Contractors in Toronto
As far as expert kitchen cabinet repainting, refinishing, and colour consulting services in Toronto go, it doesn't get any better than Booth7. We provide friendly, fast, affordable kitchen cabinet restoration services with a smile. Contact us today to get a free estimate!